The Lost Vape Paranormal 250C has just been released with the latest DNA 250C chip from Evolv. Of the many things there are to love about this mod, one of my favorite things about this is is Lost Vape's "Replay" feature, which we'll dive into later.
Let's take a look at the Lost Vape Paranormal 250C and see why it's rapidly becoming one of the most popular mods on the market, but before that, let's see why someone would consider getting a powerful box mod such as this.
Why So Many People Are Switching to Box Mods
Massive Cloud Production
Box mods offer vapers higher wattages and better overall performance. In lay terms, this means the higher the wattage, the larger the vape clouds a person can produce on a single hit. Those who prefer to "sub-ohm" use wattages of as high as 300W. A sub-ohming vape can easily fill a room with as few as two hits. But box mods are not just for those so-called "cloud chasers," they are for any vapor who wants more control.

Longer Battery Life
Most box vapes have larger spaces inside than a pen vape, providing more room for additional and larger batteries. Some mods can take up to four batteries. However, two is most common. When your vape has more batteries, you can use higher wattage coils (produce bigger clouds), and at the same time extend your battery life.
More Control Over Your Clouds

Today's commercially produced box mods feature incredibly advanced technology that puts you in control of several settings to ensure you get the best vape hit every time. The Paranormal DNA 250C features a "Replay" setting designed to let you lock in your perfect hit (more on this later). At the same time, the new DNA 250C chip is also capable of sensing different metals being used in the coils, including stainless steel, nickel, and titanium, along with temperature sensing coils, and non-sensing coils. This ability makes it much easier for you to find the perfect temp for your vaping tastes.
Say Hello To The Lost Vapes Paranormal 250C Box Mod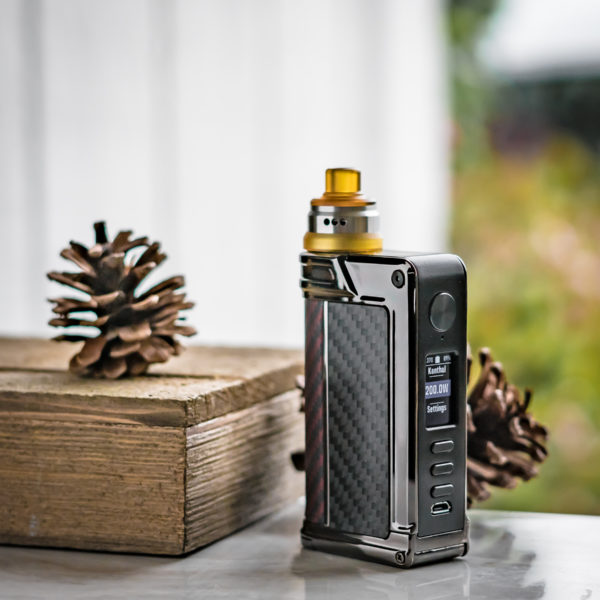 For those who have seen the Lost Vape Paranormal 250, visually, the 250C won't come as much of a surprise. The bulk of the 250C looks very similar to the 250. The combination of replaceable inserts, brushed silver alloy frame, and carbon fiber accents are lovely. Thankfully, Lost Vape stayed true with what works on the outside, but like many things, it's what's on the inside that counts.
The Paranormal DNA 250C is precision machined from die-cast zinc alloy finished in your choice of stainless steel or gunmetal grey. To help you customize your DNA 250C, Lost Vape offers four different inlay options along with three leather accents to choose from.
The new "Replay" setting allows you to save your favorite settings and the USB On-the-Go feature enables the Paranormal 250C to function as a spare battery pack that can be used to charge your cell phone, or another vape.
Cool Features of the Lost Vape Paranormal DNA 250C Vape Mod
The Much Talked about Replay Function
One of the most talked about features of the Paranormal 250C is the addition of the new DNA 250C chip from Evolv. This feature is designed to ensure you get the best possible hit every time you fire off your vape. How is this possible?
Take your time trying different firing profiles, temperatures, and boost levels. Once you find the perfect combination, all you have to do is hit the replay button. The 250C will remember your preferred settings and then deliver the perfect hit every time you press the fire button.
The best part about this feature is that not only does Replay deliver precisely controlled hits every time you push the fire button, but it also delivers the perfect flavor time and time again.
How to Use the Replay Mode Tutorial
Boost Mode
Boost mode is designed specifically for those who don't want to have to wait for that first hit. When boost mode is used, it bumps up the amperage and the ramp-up time. In doing this, your first hit will be ready in a much shorter time and be at full strength, unlike others where you have prolonged waits, and the first puff is much smaller than it should be.
USB On-the-Go Mode
Have you ever been out and about when the battery in your cell phone dies at the worst possible moment? Most of us have, and while some carry a spare battery pack, with the Paranormal 250C, this is no longer necessary. Thanks to the USB On-the-Go feature and the included cable, your 250C is also an on-the-go portable battery pack. The dual 18650 batteries have more than enough reserve to charge the average cell phone and still leave you enough power to keep vaping as long as they start out with plenty of charge.
Specifications for the Lost Vape Paranormal DNA 250C
Size: 91.5mm x 55mm x 27.5 mm

Wattage: adjustable from 1W to 200W

Temperature: 200°F to 600°F

Screen: OLED Color

Batteries: 2 x 18650 (not included)
What Comes in the Box?
Inside the box you will find:
1 x Lost Vape Paranormal DNA 250C Box Mod

1 x USB charging cable

1 x Male to female USB cable

1 x Suction cup

1 x User's manual
Yes, you will need to supply your own batteries, but then most users have their personal battery preferences. The DNA 250C takes dual 18650 batteries. And of course, you must also provide your own tank and coils.
Reviews from Around the Web
Final Thoughts
The Lost Vape Paranormal DNA 250C box mod may be one of the best mods we've seen in a long time. Overall build and finish quality are superb. We love the choice of stainless steel or gunmetal grey finishes and the interchangeable panels that let you customize your 250C to fit your tastes.
The menu is easy to understand and use thanks to the thoughtfully developed menus. The "Replay" feature is nothing short of incredible as it is offers "set it and forget it" technology that ensures the perfect hit every time. The updated menu is easy to scroll through but does have a bit of a learning curve at first. Overall, this is a great mod and should become a member of any serious vaper's collection.