Do you want to vape without any fuss or hassle? Of course you do, that is the whole point.
Vaping is becoming more and more popular and those wishing to start or make the switch from cigarettes can understandably, feel a little intimidated. There is such a wide range of vaping devices and accessories on the market.
If the idea of buttons, LED screens, firmware, and menus leave you feeling overwhelmed, not to worry.  SMOK has you covered with the Rolo Badge vaping device.
No buttons or fiddly things here, the SMOK Rolo Badge is the perfect introduction to the world of vaping. It's a no frills, no fuss pod system that is designed for ease of use, convenience and portability.
SMOK make vaping easy to appreciate. Let's check it out.
SMOK Rolo Badge Pods
So, what is a pod system?
For the uninitiated, a vaping pod is a vaping device that is just a step up from the basic e-cigarettes on the market. Although the concept is similar, they do not share the advanced characteristics of the larger full sized vaping device options available.
Novice users or those who are making the transition from smoking regular cigarettes may find the large devices a bit cumbersome and confusing to use at first. The vaping pod has been designed with these people in mind. Not that advanced users don't enjoy them too!
These devices are called pod systems because they use pods, small refills of e-liquid. Many pods on the market come with prefilled pods with a variety of flavors.  More recently, newer models allow the user to fill the pods with whatever e-juices they may have a preference for.
The pod vaping system is all about on-the-go simple vaping and compactness of size for easy portability.
Things To Consider When Buying The SMOK Rolo Badge
It's a Pod Mod
The Rolo Badge should not be compared to most other vaping devices such as the almighty box mod or a pen style vaping device, they are completely different devices in form and function.
Lower Wattage
These pod mods are designed with a lower wattage in mind so don't go in expecting vast plumes of vapor like their larger, more bulky cousins.
Vaping On A Budget
The idea in the design of a pod mod is for it to be a cost-effective and portable device for those new to vaping or making the switch from cigarettes without putting a massive dent on the wallet.
SMOK Rolo Badge Ultra-Portable Review
Right, so now that we know what the Rolo badge is and who the ideal user base it's targeted at, let's jump in and review the vaping pod.
The first thing you will notice about the device is the unique shape. The shape is similar to a traditional metallic police badge or teardrop which sets it apart from other vape devices which are more often than not pen style or box style devices.
There are no distinguishing markings on the pod beside the SMOK branding and a small LED light which indicates the status of the pod and the battery life.
The Rolo pod is built in two sections, the main body of the pod containing a 250mAh (milliamp hours) battery and the refillable and replaceable pod system which fits neatly on top of the device.
One of the handiest features of the Rolo Badge is how the replaceable mods attached magnetically as opposed to using friction sealing or clips. The magnetic attachment makes the refillable pods easy to remove and replace.
The pod contains an e-liquid tank that holds up to two milliliters of e-juice and houses the coil and drip tip. This gives the Rolo Badge fewer working parts to fiddle with making it an ideal device for the novice vaper to fire up and enjoy.
Weighing in at only 62 grams the Rolo Badge is designed to be extremely portable and easily carried in the pocket for a quick vape on the go.
There are a number of nifty colors and finishes for you to choose from. These include Black, Gold, Blue, Chromium, and a funky rainbow design. There is even a rubberized version available.
SMOK have also included a micro USB port to the device for easy charging. As the battery is only 250mAh the device charges quickly.
Pros
Good quality build

Eye-catching design

Simple to set up and use

The pod can use thick or thin e-juice

Small footprint for easy portability
The Cons
Instances of misfiring

Reports of the charging light not going off

The surface picks up fingerprints very easily

Cannot replace the battery
Features and Benefits
The Rolo Badge looks cool and has been likened to a policeman's badge or an upside-down teardrop
Available in a range of eye-catching colors and finishes as can be seen in the picture above and according to SMOK, there are more on the way!
The Dimensions of the SMOK Rolo Badge are 73.3mm x 50mm x 12mm, keeping the device compact and discreet if you want to take a quick puff on the fly.
An Integrated 250mAh rechargeable battery
The 250 mAh battery packs plenty of power so your vaping experience won't be interrupted due to a flat battery
Makes for easy and quick charging in the region of about thirty minutes
Low voltage warning

8 second cut off protection

Draw activated firing mechanism
No buttons or switches here, simply put in the mouth and draw and the device automatically fires up
Air driven pod system

Wattage output range 10-16W
The generous power output ensures you get a good hit on your draw every time
LED Light Battery Indicator

Fillable Pod System – Replaceable Cartridge
The Rolo comes with an e-liquid injection bottle for easy refilling of the pod with your favorite juices
2mL Juice Capacity – Side Fill Slot

Proprietary Magnetized Connection
What you get:
1 x SMOK Rolo Badge

2 x Rolo Badge cartridges

1 x e-liquid injection bottle

1 x Micro USB cable

Instruction manual
A Short SMOK Rolo Badge Video Review
There are plenty of videos available on youtube of various people from the vaping community reviewing the product. Here is a short review video from Jerico Vapes, enjoy!
What People Are Saying about the SMOK Rolo Badge
On surfing the net looking for user reviews of the SMOK Rolo Badge, you will find no shortage of positive reviews. It is very popular and a top seller.
Here are a some screenshots of the glowing reviews we came across:
Alternatives To The SMOK Rolo Badge Vape Mod
If you're considering the Smok Rolo Badge, but considering other mods, check these out
Smoant S8 Ultra Portable System
The Smoant S8 shares many similarities with the Rolo Badge as it is also an all-in-one vape system with a distinctive shape. The Smoant S8 has a refillable pod system like the Rolo and uses the draw activated firing system. The magnetic pod holds up to 2 milliliters of e-liquid and sports a 370mAh built-in battery.
As with the Rolo Badge, the device can be charged via the Micro USB port and has a handy LED battery life indicator beneath the pod itself.
The Smoant S8 ultraportable is simple in design and is the perfect vaping device for the new user or the seasoned vaper looking for convenience on the go.
Features and Specs
All-in-One System

Draw Activated Firing

Constant Voltage

Refillable S8 Pod System

2ml Capacity

Plug and Play Connection

12 W output
Pod Acts as Tip

370 mAh Built-In Battery

LED Battery Life Indicator

USB Charging Port

Low Battery Protection/Charging Protection/Short Circuit Protection/Overuse Protection
Suorin Drop Ultra Portable System
At first glance, the Sourin drop could be mistaken for the Rolo Badge as they both share a similar teardrop shape. These all-in-one designs are proving to be popular as they are low maintenance and easily portable for vaping on the go.
As with similar devices, the Suorin drop has a magnetic 2-milliliter pod capacity to hold your favorite e-liquid and has the draw activated firing feature. The device has an built-in 310 mAh battery and a handy LED battery life indicator on the pod.
For charging the device, there is a Micro USB port which charges the battery within 45 minutes.
Another ultraportable vaping device for the new user or those looking for a discreet vaping device for all occasions.
Features and Specs
All in One System

Draw Activated Firing

13W Maximum Output

Refillable Suorin Pod System

2ml Capacity
Plug and Play Connection

Pod acts as Tip

310 mAh Built-In Battery

LED Battery Life Indicator

USB Charging Port
MLV Phix Ceramic Wick Ultra Portable System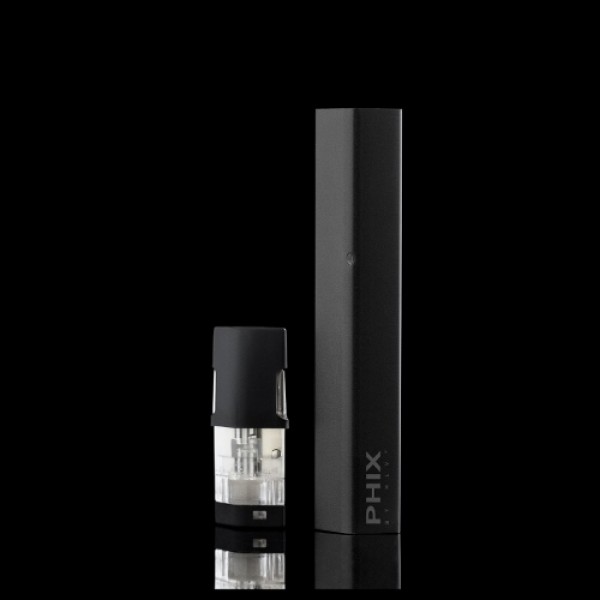 The MLV Phix is an all in one portable vaping system which is distinctive from the Rolo Badge as this device uses the pen style design aesthetic.
Again, with other vaping devices in this segment, the MLV uses the draw activated firing system and while a little smaller in capacity than the likes of the Rolo Badge, this pod holds convenient 1.5 milliliters of e-juice.
Power is supplied to the Phix via the integrated 280mAh rechargeable battery and is charged using a magnetic charging port.
A unique feature of this device is that it is one of the first devices to use a ceramic wick.
Lightweight and elegantly designed the MLV Phix is a discreet and highly portable vaping device for those new to vaping on the go.
Features and Specs
All in One Starter Kit

Draw Activated Firing

1.5ml Capacity

cCell Ceramic Coil Inside

Plug and Play Connection

Magnetic Connection
Voltage Based Output

280 mAh Built-In Battery

LED Light Indicator

USB Charge Port

Magnetic Charger
Final Thoughts
If you are looking to get started with vaping or quit smoking cigarettes but are unsure of what to expect or have a tight budget, the SMOK Rolo Badge is a vaping device certainly one to consider.
Small, light, and easy to use without too much fuss, if you are looking for a vaping system similar to a cigarette then the Rolo is right up your street.
The Rolo Badge works out the box and allows you to use whatever e-liquid you wish as the cartridge pods are refillable. Many similar devices on the market do not offer this feature since they lock you into purchasing their pre-filled cartridges.
All in all, the SMOK Rolo Badge portable vaping system addresses the needs of both the novice and the pro user and has proven to be a very popular vaping device.
Cost effective, refillable and stylishly designed, what's not to like? Add this vaping device to your must buy list. Happy Vaping.