The vape starter kit has become one of the hottest selling items in the vape world, with perhaps the exception of the thousands of different types of e-juice. But, here's a thing. Now that virtually every vape manufacturer puts out their own vape starter kit, how do you know which one is likely to be the best one for you?
The basis of the best vape starter kit is that it should include everything you need to get started with the exception of the e-juice itself. Pick your favorite flavor with or without nicotine and read on to see our picks for the best vape kits for beginners.
Vape Starter Kits (Quick List)
---
Best Vape Pen Starter Kit

For Beginners
The best vape kit for beginners will be vape pens. The reason vape pens are great for beginners is that they are really easy to use, straight out of the box. You don't need to deal with learning temperature control, coil setup, bulky batteries, etc… Here are the best vape pen starter kits.
The JUUL is a "pod style" style e-cigarette that comes in two parts. The battery and the JUUL pre-filled e-juice pod. This is the ideal situation for the person who is either a complete beginner or that wants a grab-n-go vape for work or an evening out. Assembly is easy, all you have to do is click the pod to the top of the battery housing, and you're ready to go. The kit comes complete with four different pods, cool mint, Crème Brulée, mango, and Virginia tobacco, all of which only come in 59mg/ml of nicotine.
Currently, there are five regular e-juice flavors and three limited edition flavors available from JUUL. Also in the box is the USB charger and an instruction manual. Battery life is good and under normal usage should easily last all day, and the pods should make it for two days. JUUL Starter Kit Review
Pros:
Has a solid throat hit
Easy to use and highly portable
Long battery life with rapid charging
Cons:
You have to use JUUL flavor pods
JUUL pods only come with one nicotine level

If you pull the pods out frequently, they tend to become loose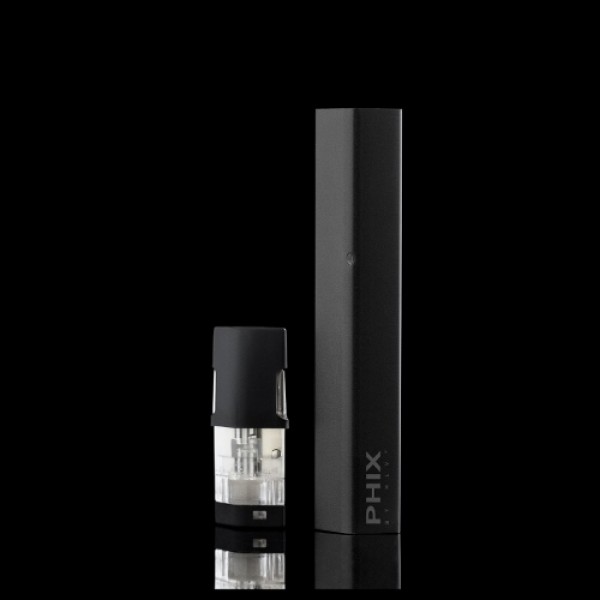 The PHIX is another closed loop vape that eliminates the need to buy bottles of juice and the mess of filling the tanks. No one really wants to deal with this all the time. Even if sub-ohming is your thing, there are sure to be times when carrying your favorite mod and bottle of juice every you go. The pods come at a 5% nicotine level in a custom-made blend.  The starter kit comes with the PHIX battery, The PHIX magnetic charging cable, the mod, and one Tobacco Blend pod.
Not only is the outside of the PHIX a stellar ceramic beauty to behold, but it also fits very comfortably in your hand. Heat is provided by ceramic coils measuring in the 1.4 to 1.5-ohm range. To get started, all you need to do is remove the pod from the blister pack it comes in and install it. The pod is held in place by magnets. Charge the battery, and you are ready to vape. 
Pros:
Beautiful and functional form factor
Long lasting battery and pod
Easy to Use
Cons:
You have to use MLV Pods
Cannot vape while battery is charging
Pods can get a bit pricey
---
The following vape mod starter kits will be for vape enthusiasts who want to get into temperature control and additional customization of their vape mod.
Best

Vape Mod

Starter Kit
True to its name, the SMOK X-PRIV Baby is a miniaturized version of the original SMOK X-PRIV. The X-PRIV is a beautiful blend of design and power. For ease of use, this mod features a large fire bar and a 2-inch color HD screen, making it easy for you to modify the settings. The built-in 2300mAh battery and the latest compact chip technology and you get a full 80W of power. The chipset also offers puff monitoring, short circuit protection, overheat protection, and more.
The X-PRIV Baby comes equipped with TFV12 Baby Prince tank. Think of this new tank as the TFV8 Baby Beast tank unleashed, with several upgrades and updates. Along with the tank, you get the V8 Baby-M2 coil and the V8 Baby-Q2 coil, both of which can be used at lower wattage settings and still produce massive vapor clouds. Charge, fill it, choose your temperature and start chasing clouds! SMOK X-Priv Baby Review
Pros:
Max output 80W
Uses long-lasting 2300mAh battery
2-inch HD screen
Cons:
Cannot remove the battery
High shine finish attracts fingerprints
Tank sometimes leaks when you place it on the side for charging
---
Best Cheap Vape Starter Kit
Keep in mind that just because the price of a vape you are interested in is low, this doesn't necessarily mean it's of lesser quality. In fact, there are several cheap vape starter kits that are found on our best vape mods list. Below are the best vape starter kit under $50 and $100.
---
Best Vape Starter Kit

Under $50
The Joyetech Exceed Edge is an all-in-one style vape, meaning that the tank and battery are all together in one complete unit. To fill the tank on this vape, you remove the plug, insert the tip of your favorite e-juice bottle and fill the tank, virtually mess free. The tank holds a full 2ml of juice, which is more than enough for a long day's vaping. Many other all-in-one vapes hold as little as 1.0 to 1.5ml, and you might find you need to carry your e-juice bottle with you.
The Exceed Edge comes with a built-in 650mAh battery, but at 25W, the battery should keep you going for six or 7 hours, and there is an LED battery life indicator to help you keep an eye on where it's at. Unlike many lower cost vapes, the Edge has a nice large fire button for ease of use. Overall this is an excellent vape for the price. Joyetech Exceed All-In-One Review
Pros:
Large 2ml Tank
Long lasting 650mAh battery
Large rubber fire button
Cons:
No airflow adjustment
Built-in battery cannot be removed or changed
---
Best Vape Starter Kit

Under $100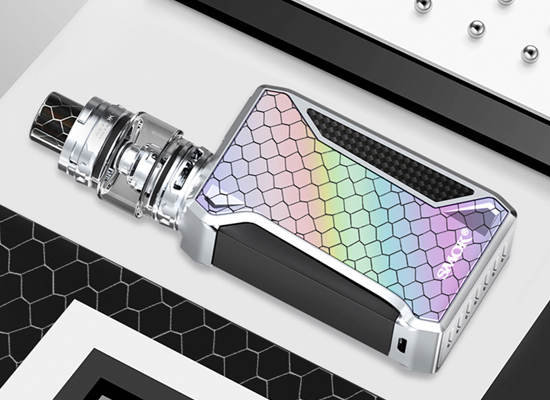 The new SMOK H-PRIV 2 comes with its own unique "cobra" pattern, with a range of colors for you to choose from. Unlike many low-cost vapes, this one has an easy to remove battery cover for fast battery replacement. With a maximum output of 225W, the H-PRIV 2 can handle just about any sub-ohming set up you can come up with or stick to either the 0.4ohm V8 Baby-Q4 Quadruple Coil or 0.15ohm V8 Baby-T12 Duodecuple Coil that come with the kit.
Equipped with a fully charged 18650 battery, the H-PRIV 2 and a 7ml tank should keep you happily chasing clouds for the day. The easy to read and use menu lets you quickly adjust the temperature, the wattage, and more to create the "perfect puff." While this might seem a little daunting to the beginner, the menu and all settings are laid out to minimize the learning curve and maximize your ability to customize your puffs. SMOK H-PRIV 2 Review
Pros:
7ml tank capacity
Great flavor and cloud production
highly accurate adjustments
Cons:
Screen can be brighter
Does not come with a temperature control coil
---
Best Starter Kit

For Cloud Chasers
And then there are those whose first reactions to the word "cloud" is to say, "Challenge Accepted." Cloud chasers take great pleasure in producing vapor clouds large enough to disappear behind. Getting started takes having the right gear.
The WISMEC Reuleaux Gen3 is the latest addition to the Reuleaux family and gets its power from three 18650 batteries that are replaceable. This trio of batteries provides up to 300 watts of power and offers 2A fast-charging. You might think having three 16850 batteries would make the Gen3 huge, but it's no more than 50mm thick. There is a side-slit to help keep your batteries cool under heavy usage (a nice feature) and a 1.3-inch OLED screen to monitor your adjustments.
On top of this, the Gen3 comes with the Gnome tank ready to go. You get both the 2ml and 4ml tank options. The tank is very true to its name as it is stubby and fat rather than tall and skinny. It also comes with a pair of VM coils giving you the option of vaping at low or high wattages. When using the 0.2Ω coil set at 90 watts, you get massive clouds of vapor that are incredibly tasty. WISMEC Reuleaux Gen3 Review
Pros:
Outstanding cloud production at 300W
Compact size for a 3-battery vape mod
---
Vape Starter Kits (Recap)
Why Buying a Vape Starter Kit Makes Sense
Maybe you tried vaping when a friend handed you their vape and asked you to try it. Maybe your friends simply vaped around you until you figured "if you can't beat them, join them." Whatever the reason, once you decide to invest in your first vape, your next decision has to be what to buy.
There are a couple of ways for you to go about it, you can go all out, buy a mod box, a tank, your own coils, and deck, pick your batteries, and try to muddle your way through your first "build." Or, you can buy one of the many kits available. Finding the best starter kit for you can be challenging, but nowhere near as daunting as trying to build your first vape setup from scratch.
However, even with the vape starter kits, you still need to know what "form" of vaping you are more interested in. Are you simply trying to do the right thing and quit smoking, do you simply want to enjoy the action and pleasure of vaping, or do you love the idea of producing massive thick clouds of vapor that can blot out the sun? Each of these takes a different variety of vaporizer.
The Different Types of Vaporizer
There are four primary forms of vape devices, some you can find for sale at your nearest gas station or convenience store, others look like the monsters your buddies are carrying around. Let's take a closer look at each of them.
a)    The E-cigarette – purpose made to look like a real cigarette; these vapes contain an e-juice cartridge (with or without nicotine), an atomizer, and a battery. These are the first generation of vapes and have helped countless thousands of people quit smoking. No buttons to push, each time you suck on the mouthpiece the device automatically produces vapor. These are also great for those who are just getting started.
b)    The Vape-Pen – Similar in design to the E-cig, but larger in size and do not have an automatic vape production system. Instead, they are the first generation of vapes to feature a button that is used as a combination on/off switch and fire button. They have larger e-juice and battery capacities, making them the perfect choice for anyone just getting into vaping.
c)    The Mods – The third generation of vapes is typically called Mods by vapers, which is an abbreviation of the word "modification." The term came about from a time when enthusiasts used to create their own modified vapes using flashlights. The reason behind this was that they wanted power which in turn helped to create much larger clouds of vapor. They come in regulated and unregulated versions.
Regulated Mods have a chipset that controls the amount of current flowing through the coils. These mods typically allow you to adjust the voltage but are considered to be safe for the beginners.
Unregulated Mods do not have the chipset designed to keep the mod from overheating. Regulation is achieved by your choice of coil and your discretion. These are also referred to as "Mechanical Mods" and are not for beginners. You need to have working knowledge of electrical systems and Ohm's Law before you are ready for a "Mech" as unregulated devices that are not properly set up can explode causing serious injury.
Final Thoughts
As you can see, there is a lot to think about and learn before you get too involved in the world of vapes. One of the most significant decisions you need to make before you look for the best vape starter kit is what type of vaping you are interested in. Of course, just because you start out with a vape pen, doesn't mean you can't work your way up to a mechanical mod and start creating your own massive clouds of your favorite vape. We hope this information helps you get off to a good start on your vaping journey.