We got to speak to Zheng Huan Ang from team Kilic Customs, one of the hottest new modders from Malaysia.  Squonking has become more popular in the high end community and Kilic Customs is making their take on squonking. They will have five units planned for their first release. As this will be our first official release after Vapexpo Paris during early October, all 5 units will be sold on the page.  The second release for pre-orders. for more information click on links.
Malaysia's New Modder Killic Customs
Killic Customs Facebook Page
"E X P L O R E R
by Kilic Customs
As the trend follows, we found that most users have transitioned to the art of squonking to their vaping habits due to the convenience it provides. Being in the industry, we cannot help but to explore it ourselves.
However, we do notice that most are mechanical or MOSFET system to retain the compact feature of the device. As such, an idea to create a compact and regulated device sparked.
We have adopted our signature firing system from our current model, The ImperioSQ which features a clean and sleek single piece plate with integrated buttons for ease of adjustments and usage. With this system, it does not discriminate against whichever dominant hand user you are. The idea was to create a compact, lightweight, convenient and travel easy device. Hence the name EXPLORER" – Zheng Huan Ang
PRICE: USD $480 / MYR1850 (excluding shipping fees)
TECHNICAL SPECIFICATIONS:
– Dimensions: 34.5mm x 45mm x 78mm (L*W*H) Frontal View
– Battery Compatibility: 18650
– Material: 3D Printed SLS (PA12 Nylon with Black Colour Base Powder) not white base.
– Bottle System by ARMOR Mods with Custom feeding system
– 510 Connector by SVA Mods
– Chipset powered by Evolv DNA60
– Fully Custom-Made Battery Tube and Cap
– Systematic 3D CNC Machining Wattage Buttons
MAIN FEATURES:
• Lightweight
• Compact
• Durable
• Squeeze-fire system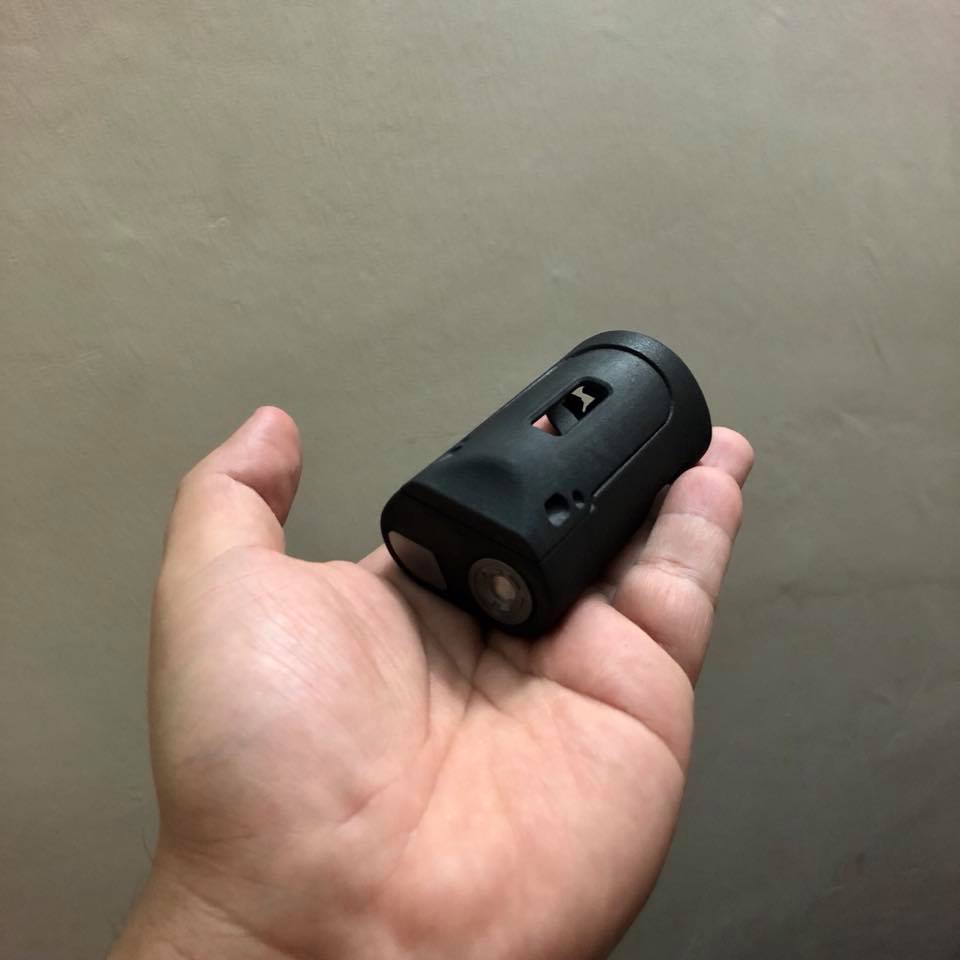 • Adjustable 510 Connector
• Easy Detachment/Plug & Play bottle system
• Battery Cap integrated disconnection mechanism
• Link USB to access EScribe functions
• Sand-blasted metal accent
• Hard-zipper Casing
• Serialised [Editions of City Skylines around the world]
And yes, it comes in Black.