Please introduce yourself, and can you tell us about the project, the Fernweh Mod?
My name is Ken Rivera, I'm 41 years old, a father of 8 (yeah I said 8), and I live in Houston, TX. Fernweh started as a drawing on a napkin, a picture of it was sent to me via PM [private message] from Dan Brown. As soon as I saw it, I felt that it was something special. Gem Dyllinger sketched it out, and sent it to Dan, and Dan sent it to me as we had already been discussing releasing a mod or atty. I then got introduced to Gem, and the rest is history. Granted the mod is a far cry from the original sketch, but that is where it all started.
When we last spoke, you mentioned that Fernweh is not a one man team, who else is on the Fernweh team?
The Fernweh team consists of 4 people, Gem Dyllinger, Erick Dy, Dan Brown, and myself. We all have different areas of strength. Gem is the creative one, he sketches out all of the ideas, both his own and ours. Erick is the "make it happen" man, he works closely with the machine shop, handling the wiring and any logistical issues with local materials and resources. Dan does a little of everything, he pitches in ideas, concepts for art, talks to suppliers, in fact Dan is the one that came up with the Fernweh name and concept. I'm the facilitator, I handle the money, arrange the materials and shipping, and work closely with Erick and Gem to make changes to the mod. We all had input into the Fernweh, and it wouldn't be what it is today without all four of us.
Can you please tell others what Fernweh means?
Fernweh is a German word that means the opposite of homesickness. It translates to the following..Fernweh literally means distance-sickness (like in homesickness [but the opposite]). You feel sad when not traveling, often depressed and lost. You desire to go out into the world, often alone but sometimes with a companion and generally you do not settle in a home…the entire world seems like your home. You drift from country to country or place to place and meet new people, learn new languages, and live a life free but never with one particular home"
Why did you decide to do manufacturing overseas rather than keeping it in the states?
The project is manufactured overseas because that's where Gem and Erick live, in the Philippines. Since the idea initially started as Gem's sketch, it was only right to keep it over there. Also we knew from past experience (Dan working with Gem on the Lucille), that these guys could help us get a quality product out.
How many units for the first run?
The initial run will be 100 units, with another 200 being produced in two separate runs of 100 units each. We plan to release 300 units total, before we move on to the next project.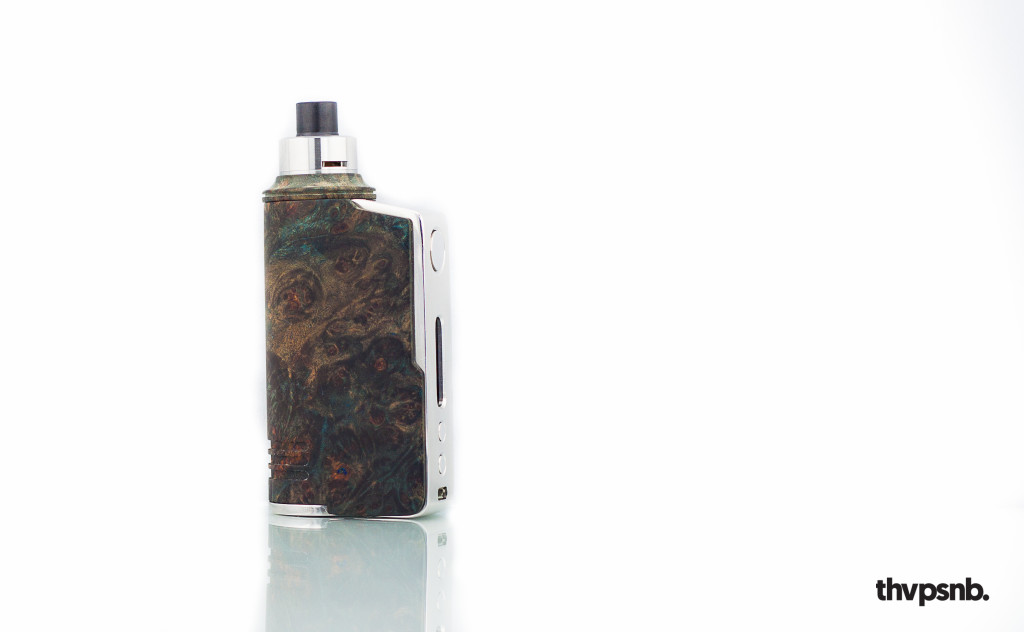 Plan to expand and do other projects?
Yes, we do. Currently we're working on a DNA 200 design, a squonker. I love the direction that we're heading, and I'm excited to get another prototype rolling.
Can you give some info on how someone can get a Fernweh Mod?
We haven't opened any list yet, and in fact the first list will be friends & family, of which we're handpicking. We feel it's only right to give the people that helped us get to this point first right to own the mod. After that we will post a link to a google doc on our Facebook group, https://www.facebook.com/groups/FernwehMod/, for each batch. Each list will be for a batch of in between 40-50 mods and will be open for a set amount of time. We'll then close the list, randomize the results, and the top 40-50 people will have the option of purchasing the mod. You will only be able to purchase one Fernweh, and won't be allowed to sign up for any other randomizations after you win, and pay for a spot. Our Facebook group is also where you'll want to go for any information that you need on the Fernweh.
Thank you for speaking with us do you have any shout outs, or last words?
I just want to thank all the people that helped us get to where we are now. We have some awesome people in the vape community, and consider ourselves extremely blessed to know these people and call many friends. I want to send a shout out to Dan Brown, Gem Dyllinger, Erick Dy, Kyle Ezzio, Evan Earl, Steven Sapir, John Oliver, David Briner, Jason Dowling along with the Charlie Noble crew and Mark Manko. Also a special shout out to Brittany Hanke, who designed our Fernweh logo that will be seen on the production units. Also love to all of my VIPR family.
Exclusive Fernweh Mod Prototype pics: