Today we have an exclusive interview with the boys behind the G Reverso! Thanks for joining us today, can you guys introduce yourselves?
Hi!.. G Reverso is made by the 2 of us, me, Gianluca and Giorgio. We live in Vicenza, a city not far from Venice [Italy]. Vicenza is the most known Italian city for jewelry, the industry I'm [Gialuca] in. Giorgio works for a big company specialized in electronic equipment. I take care of the design and materials, Giorgio handles the engineering and electronic side. We started to vape in 2012 and in 2014 we decided to create our first mod. Big emotions!
Can you tell us the idea behind the "Italian Jewel"? What's the meaning behind G-Reverso?
When you are in the jewellery business you learn how to look at the details and how to add value to each product. What we tried to do from the very beginning is to add some jewelry details to mods, even when jewelry materials are not used. This is not easy, but it is easy to lose the "vaping" side of the product, and we wanted to make sure to not do that. The G Reverso philosophy is to create mods with different, simple, beautiful and classy details. Each part of our mod is designed and made from us, even the wood is stabilized by us. This is why we like to call them "Italian Jewels".
Me and Giorgio are polar "opposites", or a better word "reverso". Each of us makes a different side of the mod, with different views, we both like to look at new solutions. I need him, he needs me.
I know there are different versions of the G-Reverso, can you inform the community about the different versions?
Right now there are 2 models in regular production:
The Goliath 18500
The Titan 18650
Both are powered by the Evolve DNA40 maxi screen.
The new Squonker is a nice project too. we were working on it from few months. The first prototypes are now ready and be in production soon. It's a big (but not big) device. Prototypes have the 510 connector but the production pieces will begin with BFX connectors. BFX is a new standard for bottom feeder devices, especially designed for the liquid transportation from the bottle to the atty. Still thinking about the chip…
We also made some limited editions, like the Goliath Black Diamond Edition, the Samurai SE and we are now working something special and precious.
I know recently you guys released the "Black Diamond Edition" how did that come to be? How did you select the people for that?
The idea was to create a limited edition dedicated only to friends and people who done a lot for vaping, and this is what we did. We made only 50 pcs and the mods were not available for purchase. We were sending invitations. The price of the mod was actually the production cost, we didn't make any profit with them. All Black Diamond Goliath's are serialized. They have both plates in solid silver and a small black diamond on the internal plate. Each mod is engraved with the name of the owner.
In future releases of the G-Reverso, will you be using the Italian made "Aulus" chip?
We are waiting for the Aulus's first batch to be released. Of course, we want to promote quality Italian works. We will update you as soon as we will test it 🙂
[vc_video link='https://www.youtube.com/watch?t=1&v=ga0HIX0sVdE']
How is the Italy's vape scene? What's popular? What U.S Brands do well over there and what do you think will do well over in the U.S from Italy?
Hmm…Good question. Italy was a great market, and probably is still a great market. There is a lot of passion but there is also a lot of confusion. We have a huge tax on hardware. Now there is a big tax on liquids (around 15 USD per 30ml bottle, plus the classic 21% VAT tax on final price). You can imagine how difficult (or impossible) it is to work. But still, many shops are able to work and the market trend is definitely focusing on quality products and high end mods.
Italian vapers follow US trends for juices. We have similar taste to the US. We're a little bit different for mods. Here…squonking is very popular (but I think it's growing very fast in US too). Most famous Italian modders are box mod makers. I think most of them make bottom feeder devices.
How can the general public get there hands on owning an G-Reverso?
The production is limited, we can produce a maximum of 30 pcs per month. All mods are available through www.supercigs.eu website. Every Saturday 8 mods are available on the website, each with a separate countdown on the product page. We do not sell directly but we support all G-Reverso owner through our FB support group. We like to be in touch with our friends.
Quite an interesting way of getting your product out into the market. What made you decide to distribute them through Supercigs? Any affiliation with with?
No affiliation really, but Makram from Supercigs stayed on our side from the very beginning. We've become very good friends and he is involved in all our projects. Let's say he is the "crazy" part of the team 🙂
What inspired the creation of the G-Reverso Samurai? Also, we heard you guys also did a charity raffle. What was the reason for that?
I was always amazed by the Japanese history and think Samurai stories are in all our minds somehow. They talk about the honour of the power and this is why we decided to dedicate our first SE's to the 7 Samurai families. Each mod was hand painted by an Italian artist, using special colours and real gold. All plates are solid silver and black rhodium plated. It really took lot of work, energy and money to make these 7 special jewels. Yes, we did a charity raffle for the 01 serial.
What are your plans beyond the Samurai Edition? Will we see additional production of the SE or are you more focused on something new? The Vape Snob edition? ;-]
Well, the Samurai Edition took us more than 4 months of work. Now we have to think about the regular production and the squonker. SE editions will probably be done one time per year, and we will start thinking about the next theme soon… but we are now working on a 15 pcs limited batch of something very precious…
Vape Snob Edition?…Hmm… 🙂
Do you guys plan on coming stateside to any conventions?
Right now we are looking for flights for the Vape Summit in Houston.. So probably we will meet you there! .. Come to see the squonker!
Thanks guys for speaking to with us, do you have any words for your supporters and vape snob community?
Thanks you guys…you are doing wonderful work and your role in the community is very important. We all need people like you. Thank you for giving us the opportunity to speak with your community. What we want to say to everybody is to support all good modders in all the possible ways. There is a big work behind each mo. Also, we want to thank to modders, this market can evolve and give to all of us new emotions all the time. We love all Vapers!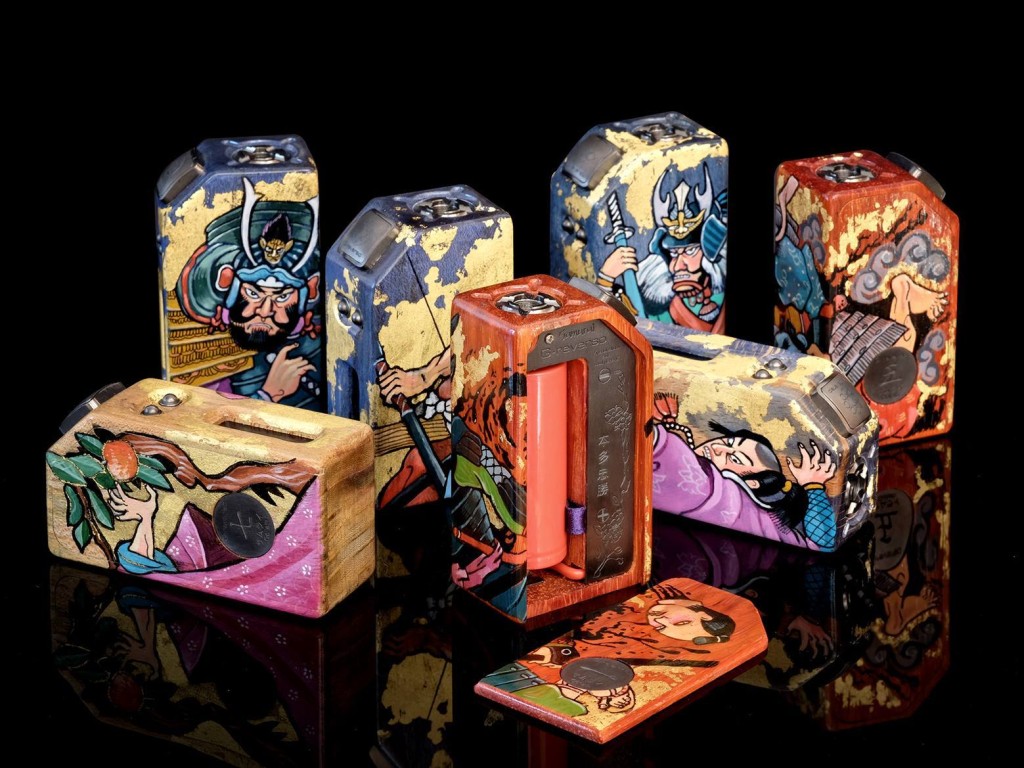 Also special thanks to Gil Charpenet, Adrian Harris, Eric Llanes, Calivapers, Nicolas Dupaigne and Makram Tarabay 😉