Today's interview is with Nolli Designs, We're sure everybody is more than familiar with them in the high end game. You'll practically see
them on almost any atomizer.  Welcome to the interview Kyle, can you introduce yourself to The Vape Snob community?
Well my name is Kyle, I live in Utah just 40 miles north of Salt Lake City. I'm 25 years old and I started
Nolli Designs about three years ago. The city I live in is actually really small. There's a dairy down the
road, cows across street, and a church on every corner. It's an easy life here honestly. Really, I'm
super normal and maybe a bit sheltered haha.
Can you give us a brief breakdown on your history in vaping and with Nolli Designs? How did you get into this industry and what led you to where you're at now?
Well I started vaping in 2009 and I wasn't even a heavy smoker. I just enjoyed vaping. In 2012-ish I worked
for electronicstix here in Utah just briefly and then rba's got big and it became some what of a hobby for me.
I started collecting and decided to take some pictures with the help of my sister. We started an Instagram
and got noticed pretty quickly and ended up working with Mr. Good Vape for just over a year.
From there I learned a little about the industry and decided that I wanted to make products and try to do
something so I contracted a machinist and started making simple 510 drip tips. Didn't really get a lot of
attention from it but Roybot noticed me and brought some attention my way and gave me encouragement to
continue, which I am eternally grateful for! He's done a lot for me and countless others so big shout out to
Roy! Anyways, so I was a bit stagnant for a bit trying to come up with something big and finding the right
team to make it happen. I decided to buy a lathe purely out of my love for woodworking and started to make
little things, but mostly jewelry.
After I felt comfortable on the lathe, I started to prototype some drip tips and since I was using a lathe I figured
I might as well make a wood drip tip. I was then introduced to a machinist who took me in and really helped me
bring my ideas to life. Not everyone knows but my name was Vapers Summit before Nolli Designs. I had to
change it for obvious reasons haha but the story goes…Robert from The Vapor Lair was in a group chat and
people were talking a bit of shit on my name haha at the time. I didnt know how big Vape Summit actually
was, so I understand but Robert was curious about what my product was about so he checked it out thought it
was sick and contacted me and now its been about a year since then and here we are. Its been a crazy year to say
the least.
Let's start off with a bit of a tough one also, while there's been good reception on your tips there's also been some negatives. For instance there have been cases of your tips shattering and having to be replaced. Now you've done a great job with your customer service and
replacing them but what are your plans for the future on this issue?
First of all I want to say thanks to the ones that support me. I do my best with customer service and I
warranty all of my drip tips. I feel like I have fixed these issues and people will be able to see the
Nolli 2.0 in Houston for the first time. Even though I feel I have fixed the issues I will still warranty the product.
Have you ever done any work in the industry prior to Nolli Designs?
I worked for Electronicstix here in Utah and later ran an Instagram account with my sister doing
photography for a few companies but mostly worked with Mr. Good Vape. Other than that I just
tried to stay active in the community.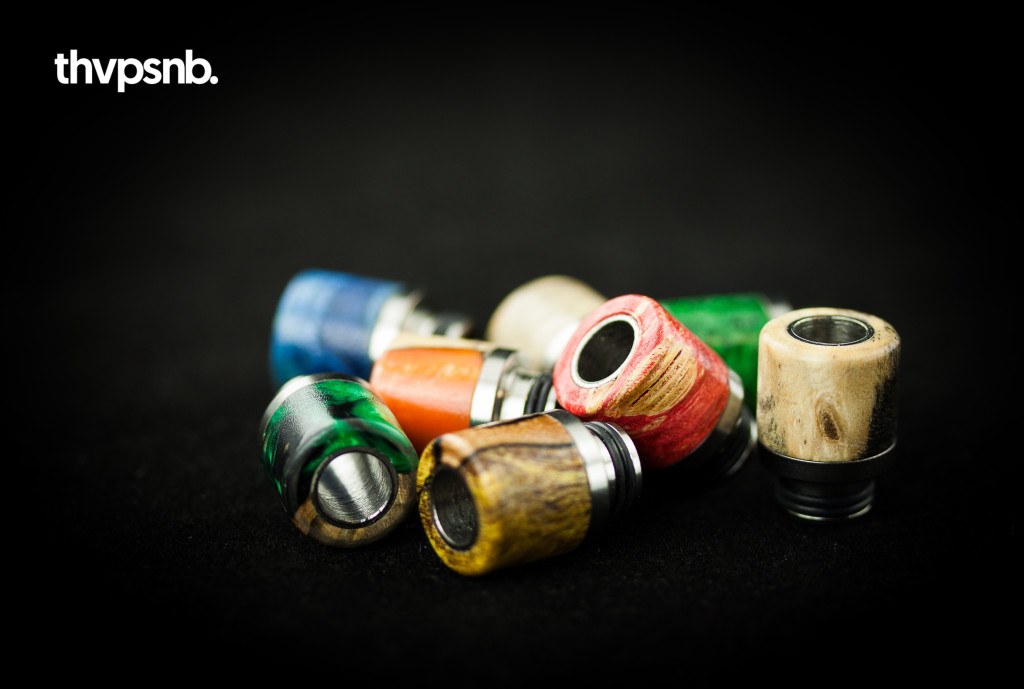 Any other projects you have coming up in the future?
Man I've been working on a lot. I take forever to put anything out. I don't know why.
I just want it to be a huge step up like a full reboot not just some little upgrade that
goes unnoticed. I've been working on a new style of drip tip since about May/June.
They will be available for the first time at Vape Summit Houston. Some of the
features include interchangeable sleeves and a new food safe finish that's water
resistant. I feel like its a far better product and I have taken all the feedback from
everyone and fixed the issues. I'm really doing my best to give the people what they
want so soon there will be a website where you can purchase drip tips, merch and a
bunch of other cool stuff and i'm even working on a custom shop for the website.
I am also coming out with a line of e liquids that I hope will be released sometime
in November or hopefully sooner. Its always been on the back of my mind but
I was waiting for the right time and for some reason it feels right. I came up with
three unique flavor profiles with the help of some friends and I have one of the
best in the game working on them with me. These are flavors I enjoy vaping
and I'm excited to see what everyone thinks.
Also I'm working on a mod. I cant say much but its been in the works for about
five months. I think none the less it will be appreciated and i'm excited to get it
done.
The wood Mad Hattie's look great. Can we expect to see you at Summit
with new assortment of Nolli's?
I will have Wood Hattie's there and ill have spare parts and people can kind
of build their own custom drip tips now that everything is interchangeable.
I'll also have three new hybrid colors available for the first time at summit.
What gave you the idea for wood tips?
Well I was turning wood so naturally that's what I decided to use.
The hybrid material was something I found through some knife makers
and jewelry makers.
Around the time you showcased them there was hardly a market for them,
how did it feel showcasing something new and different?
Man I really had no idea what I was getting into. I didn't even know wood was
popular in the industry haha I have seen wood tips before but I felt it was never done
right so I gave it a go. little did I know there was a high demand for something like
that. Just pure luck I guess. I truly am honored to know so many enjoy my work.
The Grant,The Lincoln and The Polk were some of your first successful
drip tips correct? What gave you the idea for them and the names? Ever
think about doing a collaboration with any modders?
Yea I see quite a few people using the polk still its pretty cool. I wouldn't say
successful.. but they got me into the market for sure and i learned a lot of lessons
with that journey to say the least. The names came from streets in my local city
they're all named after presidents. I really don't like giving things names haha but
my friend and local shop owner insisted so that's what we came up with.
I've have approached and been approached by people but the only thing I've done
is make tips for Revelation Mods because it was already a product I made.
I really do want collabs but its really hard for me to commit but when I do
I already know who I want it to be with.
What are some of your favorite atomizers to throw a Nolli on? Where do
you see yourself in the future of vaping?
i've been using my KTS by holyland mods lately. Or a petri.
I do enjoy my le magister but its not a style I want to use daily.
I really don't have that much gear unfortunately.
In the future I see myself still putting out product for sure.
Just hoping to stay active and put out quality products.
You've certainly left a mark on the industry with your style of tips,
lots of other companies doing stabilized wood tips now. Any plans on
releasing anything besides drip tips?
The e liquid is number one for me right now. The mod needs time though.
I'm waiting on a certain someone to put a chip out haha and when that
happens people will know more.
What else do you do outside of vaping for enjoyment?
I have way too many hobbies. Its overwhelming.
skateboarding is my go to lately though.
What are some of your hobbies that most of us don't know? What makes
you a Vape Snob?
hmm.. i"m sure some know but I play guitar in a band. I've been
playing for a bout ten years its a huge passion of mine.
I would say i'm that big of a snob but I cant stand a bad vape.
I don't care how much your mod cost or how many were made
just make sure its a good vape.. I cant build at all haha but I
still make sure I get good coils from friends and make sure
I have fresh cotton and good juice.
It was a pleasure interviewing you, any last shout outs you want to
throw out before wrapping this up?
I just want to give a big shout out to all of my supporters and team of people
who help me everyday. Everyone at The Vapor Lair and The Vape Snob, everyone at
the machine shop, my family for supporting me and helping me along the way. I don't
want to really name drop but there's a few who really pushed me and are mentors
to me you guys know who you are.
And a huge huge shout out to my girlfriend. She has been in the shop with me all
year! if you have a Nolli DT she most likely helped make it. and of course a big thank
you to the community for standing by me and supporting my product.