Austin, Texas. The city has sense of southern beauty and a is creative melting pot of its residents. There's a saying "Keep Austin Weird". Austin beautiful southern city and the capital of Texas with a lineup of local characters, icons, and landmarks that persuasively earn its claims to weirdness and coming out of it is Lautus Creations. We had a chance to meet the team and got to know the inner workings of Lautus Creations and the modder Chris Hildreth and his apprentice Brandon Finney.
Vape Snob: Please introduce yourself, and tell us a little bit about what you do. What motivated you to start Lautus Creations?
Chris: My name is Chris Hildreth, and I'm the founder of Lautus Creations LLC. I've been a woodworker for many, many years. I love wood. I wanted a really nice wood mod but was having troubles getting on lists for one, so I made one for myself. I got enough really positive reception from the one that I built for myself that I decided to make a few more. I built a couple of really, really rough prototypes that a couple of people took to ECC, and I got positive receptions from even those super-rough prototypes. From that point, I had enough people asking me to build mods, that it really only made sense to get in the modding game.
Brandon: My name is Brandon Finney and I work for Lautus Creations. I came in later to the vape scene than a lot of other guys, but I knew from day one I wanted something nice. My brother kept showing me all of the cool mods, special lists, and secret groups and I knew I had to get in. While I was still trying to secure something cool, someone at a local shop mentioned a guy in town who was working on a prototype for a new high end mod. The next week I met Chris, got to see some pictures, and now months later we work together and are great friends.
Chris: Lautus Creations is a Texas based company focusing on building really nice looking but durable mods. I started building mods in June of 2014, and had enough fun and positive reception that I decided to pursue making high-end mods for other folks. I met Brandon a few weeks before ECC, and before long he was hanging out in my shop helping me make mods. I'm super excited that he's joined Lautus Creations – he's very detail oriented, and really helps round out the company. As for branding, we're really focusing hard on a couple of things related to our brand. First, we're super proud of the fact that we're the only U.S. based high-end mod. We source all of our parts from suppliers in the U.S., and take a lot of pride that all of the work, from machining, to assembly, to final finishing, to building project packaging is done here in Texas. We've also focused on integrity in the whole process. This starts from not taking money until mods are done, all the way through to end-user support. Brandon and I take a lot of time to communicate with our customers, and we do our damnedest to make sure that every purchase is a good one.
Brandon: So Chris is the brains behind Lautus Creations. He looked around, decided on making something new, and that's why we have the Primoris today. I've just recently started full time with my main focus being on the day to day. It allows Chris more time to innovate and focus on his love and what is important…the wood. One thing that we have built our brand on is the Made in America factor and brand integrity. All the steel is milled here in Texas, and we stabilize and dye all of our wood in house. Doing all of our own wood allows each unit to be unique.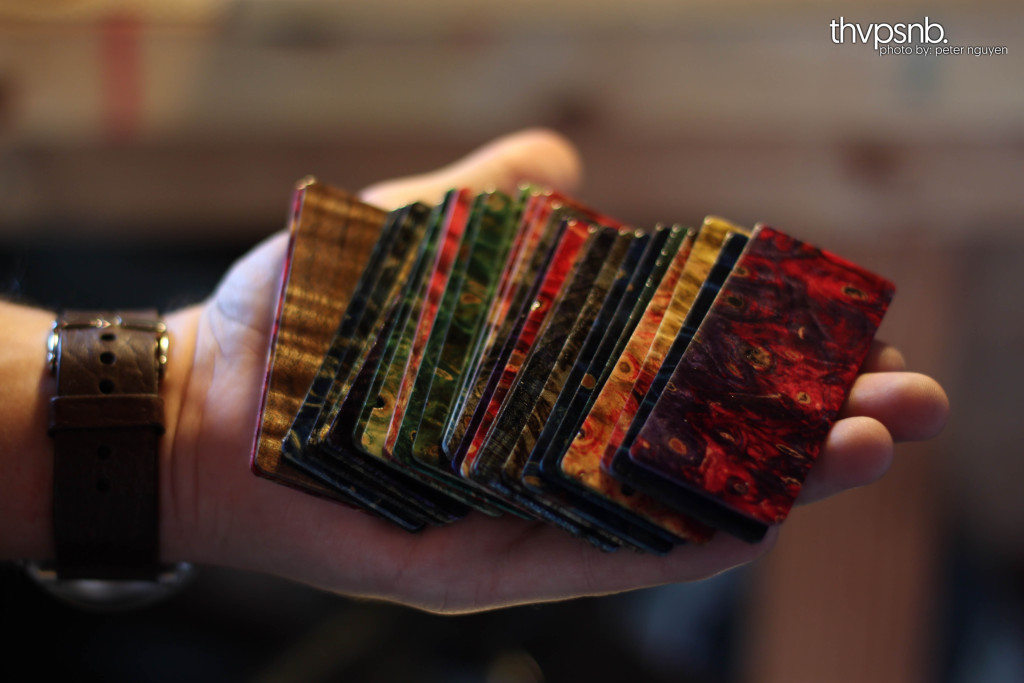 Vape Snob: What are some of your inspirations creating The Primoris?
Chris: I've been a wood worker for basically my entire life. The first time I can remember being in a woodshop, I was about 6 years old by my best guess. From that time, I've always loved wood working. I've built everything from the most basic wooden boxes to furniture to humidors to guitars to cabinets to houses. As with most woodworkers, exotic and figured lumber fascinates me, and making mods is a great way to indulge myself on that front. When I started designing the Primoris, I had relatively recently seen someone drop their W-Box and shatter the wood. I knew the mod had to include wood, but I also wanted the mod to be sturdy enough to survive an average clumsy vaper. I'm a fairly clumsy person myself – I can't seem to keep my mods from hitting the floor for longer than about three days at a time. My Primori seem to be standing up to the abuse that I put them through.
Brandon: I'll let Chris take that one 😀
Vape Snob: Who are some of your biggest influences in vaping?
Chris: With the profusion of c-frame mods, everyone seems to hesitate to name Teppo and the W-Box as a source of influence. The W-Box was the first high-end mod to really catch my eye. Actually, what finally drove me to make my first mod was failing to get on the W-Box list for about the 4th time. I'm a big admirer of Teppo's (Wapari Designs) eye for wood – the wood he selects is top notch. From a wood working perspective, the projects that I design tend to have plain and clean lines. Even the plainest piece of wood is completely unique and has its own natural beauty. With this in mind, I don't want my projects to have complex lines that distract from the wood. The design of the Primoris follows this same philosophy.
Brandon: Chris of course is my biggest influence. I have learned new skills and woodwork that I never thought I would know. I also very much respect Pawel Mikos of Gepetto. His mods were the reason I even wanted something high end. Without his work I wouldn't be doing what I am today.
Vape Snob: Who have been your biggest supporters thus far?
Chris: Brandon Finney obviously! Eric Schild has also been a fantastic source of inspiration, constructive criticism, and the occasional kick in the pants to get me moving forward. Matt Finney also has been a fantastic help – he's gone out of his way and spent a lot of time online as an admin maintaining our Facebook page and group. My wife has also been incredibly patient with me spreading my tools all over our house and using up all my free time on building mods – thanks honey! Last, but certainly not least, I really couldn't have gotten this project off the ground without the support of my parents. Family always comes through – love you guys!
Brandon: Too many names to list. I would say the best thing is how the vaping community as a whole has received the Primoris. Ever since the official launch at Vape Summit 2 the reception has been incredible. It has allowed us help raise money for charity, grow our business to more than a hobby, and make amazing and new friends.
Vape Snob: What upcoming releases, projects, or events are you working on?
Chris: We're going to be attending Vape Summit III in Vegas at the end of April. We've been asked to be a part of the Modders Gallery and are excited about that. I am also very excited to be able to say that Brandon Finney has recently and officially joined Lautus Creations as a full-time modder. With his help, we're going to be able to speed up and increase production drastically. We're hoping to be able to drop lists about once a month, and have the lists be a bit larger than what we've done to date. We've also got a couple of new projects in the pipeline, including a collaboration with Teleos that we're pretty excited about.
Brandon: The biggest shift on the horizon is I have gone full time with Lautus. It will allow more mods, new designs, and better everything. We are going to be releasing some limited editions in the near future and bring some new designs to Vape Summit 3.
Vape Snob: What are some of your favorite personal vaping setups?
Chris: Would it sound self-serving if I say that I vape on Primori almost exclusively? I vape almost exclusively on Primori. I also have a Styx that I use quite a bit, though I managed to break it while fiddling with it to see exactly how the 510 connection was fixed to the mod (oops!). I need to run a quick repair on it to get it operational again. So right now I exclusively use Primori! From an atomizer perspective, for the last couple of months the only atties that I've been using are the In'ax (I run two 18 mm In'axes and two MkIIrs), the Origenny v2, a Tobh v2.5, and the Atlantis/Eclipse.
Brandon: My daily setup is a Primoris with a Kayfun or In'ax. When I need to chuck some clouds I have a toast mod from Tom Paul of Trhee Mods. It's a great handmade device if you need more power.
Vape Snob: What are some of your favorite E-Liquids brands and flavors?
Chris: Crunch, the Milk, Dusk, and Delta by Teleos/Cloud Science, The Creamy Pear, The Island, and The Spiced Donut by The Statement, Party Animal by Bottle Service Vapor, Rosso by CRFT, $100 Apple Pie by Northern Lights Vapor Co., and too many others to name.
Brandon: My boy Eric at Teleos, and a new juice company that my brother started called Statement. I've pretty been exclusively vaping their juices for the last month.
Vape Snob: What are your plans for the future?
Chris: We've got a redesign of the Primoris as well as some ideas for brand new mods in the pipeline. Again we can't say too much at this point, but we're strongly considering a change of chipset. We've got a lead on a brand new US-made chip that could have some serious possibilities if it comes to fruition.
Brandon: Just helping Chris continue to evolve the company into one of the greatest in high end vaping. I want to play around with new materials and chips, and give the people what they want.
Vape Snob: Vaping and hobbies are often tied together…What hobbies are you into?
Chris: As I mentioned, my hobby/addiction is woodworking. I play guitar as well, but not terribly well. I used to play a few video games, but that doesn't happen so much anymore with working full time and being a modder on the side.
Brandon: Before working at Lautus I sold guns for a living…so guns. I also love gaming…quite the nerd.
Vape Snob: I know this is a silly question, but what's your song of the moment?
Chris: "Hold on to the Nights" by Richard Marx. Best. Song. Ever.
Brandon: The whole Guardians of the Galaxy soundtrack. I'm listening to it while I'm writing this 🙂
Vape Snob: Thanks for taking the time to speak with us. Do you have any last words or shout-outs?
Chris: Welcome to the Lautus Creations crew Brandon! I'm seriously stoked to have you on board!
Brandon: I just want to say thanks to Peter Nguyen and his crew for doing this. Also to all the guys that have visited us in Austin, thanks for the support and fun times. Just keep an eye out everyone…it's going to be a big year for us!