Can you please introduce yourself to the Vape Snob community?
My name is Travis Hostutler. I am the President of ARC Wholesale & Distribution.
So let's start by addressing the elephant in the room.  You were with Ben Jonson's [aka Oakshire Trading Co.] as their Operations Manager.  You recently left and started Arc Distribution & Wholesale.  It seems like you were doing very well at Oakshire Distribution, if I may say so myself.  Why the big change and why now?
Yes, after managing several different brick and mortar locations in the Orange County, CA area I started working with Ben and Sam at Ben Jonson's Awesome Sauce. I worked with them for over 2 years and had some of the best experiences of my life. Not only did I work with industry innovators, I also had the privilege of helping their company grow into what it is today, which I think we can all agree is something spectacular. I worked my way up the ladder and became the Vice President of Operations, where I managed all of the day-to-day operations.
The sudden change wasn't so sudden for me. I had been kicking the idea around for some time. Eventually, all the stars aligned and I was blessed with an awesome opportunity with great people and I couldn't pass it up.
Since we got that out of the way, can you tell us little more about Arc Distribution & Wholesale and the brands you are currently working on?
ARC Distribution & Wholesale is my new project. We are currently the sole distributor and manufacturer of Rehab Vapors, Persona Juice and The Neighborhood E-liquid. The fourth (which is a big one) will be finalized very soon. We wanted to create a company that wasn't just about making money. Our main goal is to give back to our customers to help their operations grow. We want to do anything in our power to help shops of all sizes, to ensure the longevity of our industry. 
Right on, man. One of the brands that caught my eye was Rehab Vapors. It has been a while since I bought something from VapeRev… It seems like the brand has gone through some changes.  Can you give us some info on the new Rehab Vapors?
Rehab Vapors is a strong line with some outstanding flavors. When Matt and Will approached me about selling it I was extremely grateful. They spent over a year rebranding and re-formulating the new flavors. Originally, the line had eight flavors. With the re-launch they decided to only release four. These four flavors (G12, Juicy, Zebra, and Whiskey Tango) were fan favorites. With the high VG ratio and the new brand image, we are confident they will once again become house flavors all over the country.
[vc_video link='https://www.youtube.com/watch?v=Y07Ie5vFzOs']
I really love the new look and what you guys are doing with the brand now, but there is something a lot of people probably don't know about you guys.  You actually donate 5% of your profits to the Recovery Movement.  What is the charity you donate to and why is it important to you?
So… yeah, in 2012 when the line was founded it was always a goal for Matt and Will to give back to a cause that was near and dear to their hearts. In this case, that is helping people who struggle with addiction. 5% of Rehab Vapors profits are donated to Recovery Homes all over the country yearning to build awareness and stability for families everywhere. There is no specific charity or home where we send our donations. We let our consumers help us make those decisions by logging onto our website or reaching out to us directly. If you know someone or some place that needs help, we are more than happy to do what we can to provide support
That awesome! Some of us here at The Vape Snob can definitely relate.  More people need to know about the good that the vape industry has done and is doing.  So… what are your favorite flavors from Rehab? It's kind of like asking a mom who her favorite kid is… she will usually say she loves them all equally, but let's be real….
Well my favorite flavor is G12. I love the strawberry and raspberry mix. I think it is a perfectly formulated all day vape. I know that Matt's favorite is Juicy. This one is a little different then most people have tried before but once you get hooked you can't put it down! Lastly, Will's favorite flavor is by far Zebra. I don't think I have ever seen him vape anything else. If you haven't had a chance to try it yet you have too. Anyone born in the 90's will remember this flavor as their favorite chewing gum. The only difference is that the flavor doesn't dissipate in under 30 seconds and actually lasts all day!
Where can we find more info about Arc Distribution & Wholesale as well as Rehab?
You can find more information for Rehab Vapors online at rehabvapors.com, as well as Instagram: rehab_vapors and Facebook: facebook.com/rehabvapors. We are currently working on the website and social media plugs for ARC Wholesale & Distribution. Please stay tuned.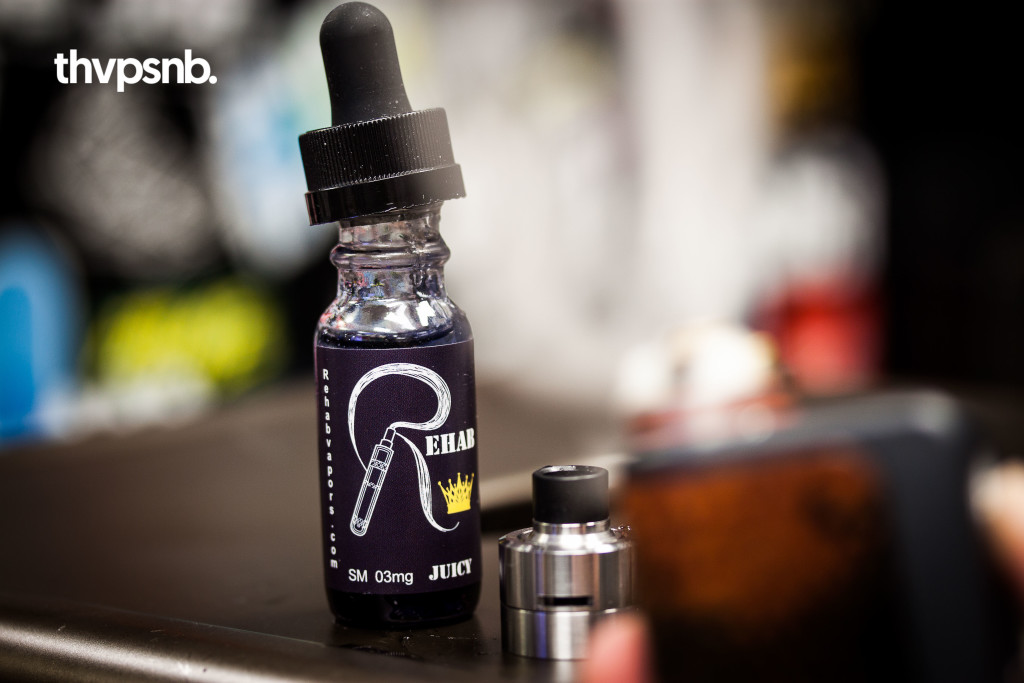 Last question…What does being a vape snob mean to you?
Hmmmm… to us a Vape Snob is someone who appreciates and respects all of the hard work individuals are putting into this industry. Not only to create pieces of art, but to help everyday vapers educate themselves and find passion in something that can ultimately save their lives.