Today we have an interview with the founder of The Vape Summit Rocky Anciano! How's it going, buddy! We're really excited to have you on The Vape Snob. [You can get more info on Vape Summit here]
Insanely busy, which is just like any other day in paradise lol  But thank you for having me on Vape Snob, I've been a huge fan since it's conception.
Can you fill us on what you did before Summit? Take us way back and let the people know who you are and how you got started. 
Before Summit, I was a workaholic of a Respiratory Therapist. I quit smoking cigarettes after I picked up my first device, the Provari, from VapeRev.  My respiratory therapy co-workers, Johnny Nguyen and Jeff Natalio, came up with the idea to open a vape shop because we felt passionate about it's benefits.  The Vaping Section was born in December 2012 in Diamond Bar, California.  We opened a chain of Vaping Sections in Southern California and Hawaii since then…
What led you to create the infamous Vape Summit and what made you continue on with it after the first one?
The state of vaping was a mess. At the time, clones were rampant (and accepted), vape suppliers were beefing over radiuses, and businesses were ran unetheically.  It caused a rift in many friendships and even tore apart families, including my own.  There also weren't any advocacy measures in place or a set of guidelines on how to operate accordingly… everyone sort of made their own rules, so clicks were born, hand in hand with unnecessary drama. I was close to stepping away from the vaping world because it was emotionally draining.  I didn't enjoy hearing gossips or rumors circulating in what I thought was a tight knit community.  What did I have to prove?  I had two stable jobs, a young family, and I could've enjoyed life within its humble confinements. But one thing led to another… With only $387 (to file the business license) I thought, what if I can bring all these vape companies under one roof with the emphasis of highlighting the beauty of this fast paced, yet innovative industry? I had met Ranier S. Galgana, who had a strong background in investment banking, finance, and throwing "small parties."  He was responsible for creating The Las Vegas Foodie Festival amongst many other successful events in Sin City.  With his planning skills and my long shot of an idea… The Vape Summit was born.
We did a property take over at The Hard Rock Hotel and Casino in Las Vegas, then moved into 166,000 square feet at the NRG Center in Houston.  Just recently, we occupied 300,000 square feet of the world famous, Las Vegas Convention Center. I chose destination convention spaces because of the eyes I wanted to attract to this industry.  When we occupied the Las Vegas Convention Center, for example, we shared the same space as CES, Agenda/Magic, and SEMA.  To see The Vape Summit mentioned amongst those real trade shows, is pretty surreal.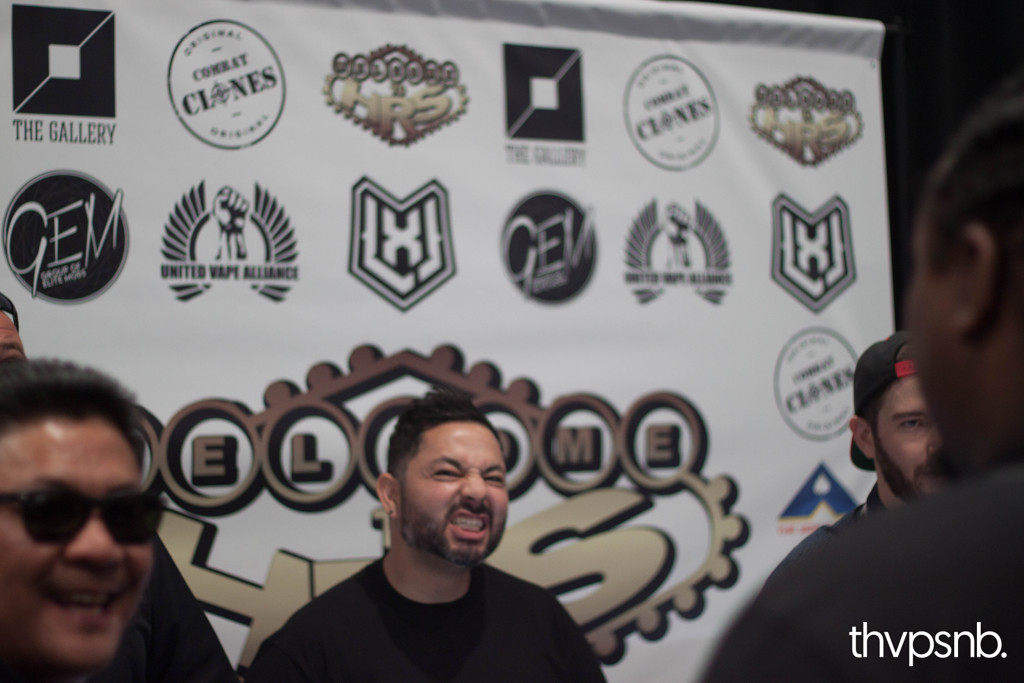 Besides all the free juice that gets thrown at you, what juices do you really feel deserve a spot in your top 5 E-juices?
Haha, I don't really get a bunch of free juice, but this is my current top 5:
1. Twig & Berries- Life of Pi
2. Kilo- Kiberry Yogurt
3. King's Crest Duchess
4. TSL Flavors – Orange Sunset
5. KVASS – Strawberry Wafer
How do you feel about your competitors? What makes Vape Summit stay at the top?
Exercise your due diligence.  Focus on your own show, instead of focusing on what we do, because when don't represent this community/industry in the proper light, everyone is affected.  I welcome the competition, it makes us better.  At the same time, we know there are those that will replicate and attempt to duplicate what we created out of originality.  Take our blueprints, you can't execute the way we can. And that is why we stay at the top…
Instead of being possessive and exclusive, we choose to be inclusive work with everyone.  We encourage ideas to flourish.  We're wise enough to know we don't know everything.  Tell us we fucked up.  We will tell you how we've improved from that type of feedback.
What can we expect to see at Vape Summit IV? Anything that's going to blow our minds? Hookah Pens?
This time last year, we introduced the original and infamous Modders Gallery that featured artisans such as Pawel of Gepetto Mods, Wapari Design, Athea, Stickman, Mankos Mods, Stashbox, Volpi and Sunbox, Black Rose, Ayman from Vape Droid, Frost Mods, Top Hat Mods, Ohman, Glas, and so much more.  I can say that a majority of the high caliber modders you've met in Las Vegas will be back in this go around for Houston.  CRFT Labs has returned with the coveted Title Sponsor for The Vape Summit IV.  They were first to introduce a functional clean room in Las Vegas.  For Houston, they concentrated their efforts on building out an even more updated version of their clean room, which will serve as a platform for the Vape Trade Organization we are going to launch.  In this debut, you will find a number of influencers from within this industry and financial analysts that would like to elaborate on how dynamic this vape industry truly is.  I believe this will be the answer to advocacy, that we as vapers, have been achingly waiting for.  Product-wise, we are focused on bringing out more hardware to the show, while being more selective with e-Liquid companies.  We have a special pavilion for new companies at The Vape Summit, who may be the next biggest thing in the industry.  One particular exhibitor I am excited about is Juul by Pax Systems.  Their nicotine delivery is revolutionary, adding a new approach at vaping.  Check them out! The Best of Show Awards returns, offering our exhibitors the accolade(s) of being an award winning juice.  Working closely with Craft Vapery, we solidified a new judging criteria with a dedicated panel of taste testers.   Giant Vapes is returning as our Registration Sponsor.  They will be playing host to a gaming pavilion, since it's one of Mike's passion.  Want a chance to make it onto www.giantvapes.com?  Mike will be accepting challenges…
How long do you see yourself doing Vape Summit and will it stay in the U.S? Are we going past the top? Can we expect to see you in Malaysia?
I'll plan on doing The Vape Summit as long as it continues to be fun and I am healthy to do it. Past the top would be collaborating with other experience events where I am working on setting our footprints in. I've been invited to a number of Southeast Asian countries, Europe, and South America. So wherever fate takes me, I'll continue to pursue…
You've obviously got a lot of support going on for VS but what are some of your more personal supporters? Who can you rely on to always be there for you?
My personal supporter is my wife, Erin Anciano.  I know I am not easy at all to deal with.  My mind operates differently as much as it misinterprets it.  I know I make tons of mistakes and continue to but when I am with her, she is the closest to the perfect me as I can possibly get.  Without her, I'm no one special. Yeah,  I know I can always rely on her.
Besides Summit, what are some of your personal hobbies? I noticed you have a mean shoe game, what's your personal favorite pair? (I'm a size 12)
Haha, if you were a 9.5, I would've hooked you up.  Sneakers have just been my thing since I was a kid.  I didn't have all the money in the world, but it created the hustle that lives in me now.  I probably had, in excess, over 1,000 sneakers at one point.  You can be a good judgment of character by noticing what type of kicks a person is wearing..
My all time favorite pair of Jordans would have to the The Nike Air Jordan IV in the original black and red colorway.  Yes, with the Nike and white Swoosh on the back.
Other than that mild sneaker fascination, I spend my time in building this empire for my children to take over.  Fashion, architecture, design, reason, purpose, traveling, and finding the best food in the world pretty much sums up this simpleton.
Not a lot of people know about Vaping Sections, can you give us a background on how that came to be as well?
The Vaping Section was started back in December 2012 was found by my friends and co-workers, Johnny Nguyen and Jeff Natalio.  I remembered our first lines of e-Liquids we carried back then was the Vaping Monkey, JVapes, and Eliqube.  Our grand opening was pretty epic. Police Officers had to shut it down because of the excessive  amount of people it attracted.  Maybe it was a sign that moving crowds and creating fun parties was my calling lol
How does it feel to be the leading industry with more legitimacy with a strict no counterfeits (Clones, Knockoffs)?
It feels really good to do something right without the intentions of garnishing recognition. I remember when we boldly executed that policy, which turned out to be the statement for our inaugural show. We were heavily scrutinized for it, turning away manufacturers, exhibitors, and buyers alike with our intensive vetting process. Even those at our show that tried to be slick about it was reprimanded. The market started to correct itself, whether we trail blazed that path or not. Today, cloning isn't as prevalent as it was before. Vape companies and retailers disassociated themselves with clone supporters because it wasn't a good look for their branding. A new phase of innovation arose out of it. Manufacturers became more cost efficient, driving affordability for the average vaper. This circles back to the goal of why I created The Vape Summit… to unify, or even coexist in an ethical medium.
Advocacy is becoming more and more, what can we expect at Vape Summit IV?
The people need a big outlet to get the world out! Yes, stay tuned for The Vape Trade Organization that is going to be rolled out in a few days, making it's epic debut in Houston this October. We have worked closely with industry leaders, finance gurus, and influencers who have created successful models of organization to execute proper guidelines. Can we expect a return of the Modder's Gallery? If so can we snag a few? The Gallery was first introduced by The Vape Summit last year in Houston and continues to be a staple in all our shows. It's not just a showcase of talented modders, it's about preserving, quite possibly, the last form of individualism that still embraces the lost arts of wood carving/making and metallurgy with a touch of technology. Thomas McCool and Bryson Young have done an amazing job working with modders from all over the world, League of Extraordinary Vapers, and UVA/HRS. As co-producers in this special experience area, they understand the level at which they have to execute as and they've always exceeded it.
What to expect….
Pawel and Bartosz will be making their second appearance in this go around after having a blast earlier this year in Las Vegas. Heard they have a few surprises in store for those attending. Stickman and Mellody Box will be on display. Some new modders will also be featured. Stay up to date with our social medias to see the caliber of modders we are honored to work with. Many mods will be available for purchase, wholesale, and retail. You know who we have brought out to solidify that… 😉
Shoutouts and internet slaps you want to give out?
Way too many to mention so I'll do my best…
My wife Erin Anciano and children Emmy, Rylan, and Ethaniel.  I couldn't find a better purpose to exist.  It's undeserving to have their love.  I'm nothing without them.
Ranier S. Galgana (thank you for making it happen. same brain. i love you man), Matt McClure, Ryan Hogan, and Marko Greisen – thank you for your guidance.  These ideas wouldn't be able reach the potential of its glamour without your expertise.  It's humbling to have you as business partners, allies, and mentors…friends.
Alika of Mankos Mods- Thank you for believing in me since day one.  Your father-son bond to Kai is one of the most inspiring stories I've ever heard and immersed in.  You've been a big brother, a friend, and a symbol of strength.  Love ya big bro.
Casey of TSL Flavors, The Seventh Letter, and Known Gallery.  Through fashion, art, music, and influence, you've been a role model that shaped my youth.  Who would've known we would've met like this.  Thank you for bringing me into your world, your family.  It's still all too surreal to me.
The Vaping Section- Dillon, Johnny, Kevin, and Jordan.  We still here, lol
Arsenal Wick and Wire Squad A-Z … couldn't imagine being with anyone else in these trenches.
The Vape Summit Squad: Tinh Tran, Jeff Natalio, Anthony Cahanding,  Roybot Mananquil, Lam Hong,  Jeff Phantom, Karlo Naquila, Eugene Carbonel, Arby Pabon, Jason Bitonio, Blayz Bustatass, Donovan Mansinon-Salazar, Derek Sante, Lea Tran, Joseph Brown, Stiks, and Leah Lopez… words aren't enough to express my gratitude and my debt to you.
Thank you Smartsheet, Zoom, Google Drive, Groupme, and Slack.
If I forgot anyone, blame my mind and not my heart.
What makes the man behind Vape Summit a Vape Snob?
I am a Vape Snob because Senpai Peter Nguyen and The Vapor Lair Houston (Nam, Elliot) showed me a refined way to vaping.  They are the reason why I am humbly meticulous in this higher level of vaping.  There's so much to learn in a small amount of time.  I'm just taking in what I can, while I'm still here.
P.S, FK?
All Day
If you guys haven't seen our last coverage of the last Vape Summit at the Gallery Check it out link below!
THE VAPE SUMMIT 3: OUR GALLERY RUN