Odis Collection & Design – More hardware to cover all your vape needs
Odis has been quite busy as of late as they have been designing and prototyping many new products to add to their growing roster. This time around, we will be seeing a few additions to their rebuildables, and accessories. The Odis 16, and Odis 25 have been recently announced to the community, showcasing RDA's that are specifically tailored towards squonkers, and cloud chasers. That's not all – Considering the popularity surrounding the Billet Box, Odis has hit the drawing board to offer accessories that would complement the device very well, and it's not only panels or buttons. They have provided us with a sneak peek of what will be instore for Billet Box lovers, and it is going to be a real treat. To top things off, a new style of drip tip will soon be seen as well.
The O-Atty extended line – Everything you love about the O-Atty done bigger and smaller
Introducing the two newest RDA's from OC&D, the Odis 16 and Odis 25. Odis has stayed true to the key design features in both the new RDA's that lead to the success of the O-Atty. With these new adaptations, they wanted to offer new products that would accommodate a wider variety of vaping styles. From your small chamber squonkers to your spacious cloud chaser RDA's, the O-Atty extended line now covers the full spectrum of dripping preferences.
The Odis 16 is a 16mm bottom fed atomizer designed for true squonking vapers. This design in particular went through many revisions with the support and guidance from the admins and members of the UKS squonk group. The Odis 16 was tested for over 3 months to ensure that all aspects of the squonk experience would be present when using this RDA. Intense flavor production is achieved by the extremely small chamber, signature OC&D 30-degree angled air flow design, and coil placement. The Odis 16 deck has side by side contacts, and like all other OC&D products there are multiple top cap options offered for customization. The finishes available are Ultem, clear frosted, and black Delrin.
Specs:
16mm wide and 17.6mm tall without Drip-tip
Single air flow configuration
Single coil setup
Delrin, Stainless steel, and peek construction
Spare Hardware and o-rings
Signature angled air flow
Gold plated hardware
Conical top cap for vapor channeling
BF ready
The Odis 25 is a 25mm atomizer designed for cloud chasers that prefer more deck space and wider air flow. Along with the adjustments in overall size, Odis has redesigned the contact system to provide an easier time when working on installing your builds. The plates will now feature a chamfered edge which will allow you to simply slide in your coil leads, and a tab that will prevent them from rotating during the installation process. The air flow holes have been enlarged in order to provide adequate air circulation for lower resistance builds, and coils with larger surface areas. Even with the larger chamber, the signature O-Atty design ques will continue to provide superb flavor for cloud chasers. The production version of the Odis 25 will include an Ultem drip tip, and accessory top caps will also be available in multiple finishes.
Specs:
25 mm wide and 20 mm tall without drip tip
Dual air flow configuration
Allows for dual or single coil setup
Ultem, stainless steel, and peek construction
Spare hardware and o-rings
Signature angled air flow
Gold plated hardware
Conical top cap for vapor channeling
Chamfered plates and coil landings for easy installation
Odis Billet Accessories
The Billet Box Rev4 has become an extremely popular and sought after unit, and Odis noticed that there was a lack of rebuildable bridges available that offer options for use of mouth to lung, and lung inhale configurations from the same device. It was decided afterwards that they would design a practical and easy to use bridge that would accommodate both vaping styles, while still providing the freedom of being able to fit coils up to 3mm in diameter.
The build deck will incorporate a layout with chamfered wicking channel cut outs, as well as cut outs on the outer sleeve to allow as much contact with e-liquid as possible. The chamfered edges where the wicks will naturally curve, will help prevent harsh bends in your cotton and allow for the capillary action to go unhindered.
The posts are positioned side by side for easy installations and will utilize allen key grub screws. To accomplish a good mouth to lung vape, there will be air flow plugs that will reduce the airflow directly below the coil, whereas others will attempt to do that from the outside of the Boro. This will provide a true mouth to lung feel. The construction of the bridge will be of high grade stainless steel, and for rebuilding, there are plans for a 510 adapter.
Specs:
Stainless steel construction
Dual o-ring build deck
Gold plated hardware
Side by side posts with allen key grub screws
Chamfered wicking channels
2 piece chimney
Slotted air flow center pin with AFC ring
Air flow plugs for mouth to lung use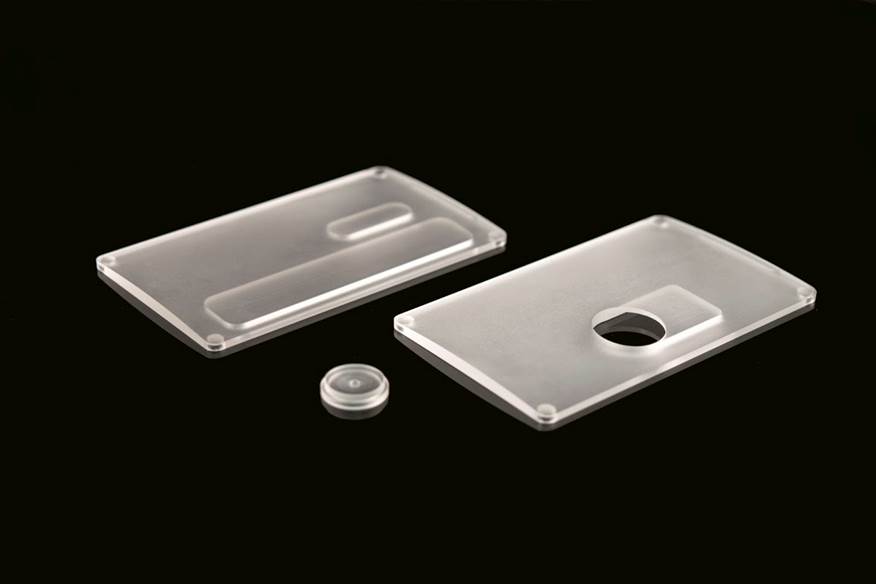 In addition to the new bridge, Odis will be bringing back their Billet Box door panels and buttons. The clear and Ultem panels feature the same curved design that you would find on the standard G10 versions. To complete the look of your Billet Box, the buttons will be available in clear and Ultem as well. The panels and buttons are sold separately, so you can mix and match to your preferences.
Stabilized and hybrid wood finishes are inbound. These versions of their panels have a flatter profile in comparison to the clear and Ultem ones, and beveled edges have been implemented into the design to ensure a comfortable feel in the hand. Each set is carefully hand selected, crafted, and finished by the talented team at OC&D. Get ready for some high quality panels, featuring their in-house stabilized wood!
The Billet Box is very convenient device, although there is one thing that is always a nuisance to have to deal with when it comes to its use, the condensation build up. OC&D has come up with a very simple solution, as well as the first product to help combat this issue, the condensation plug. Within the market for Billet Boxes, there are plenty of other accessories, but none focus on protecting them, such as your high end stabilized wood panels. With this plug installed, excess vaper will be redirected so that it will never settle in places where it should not end up. Keep your panels dry and safe with Odis condensation plugs.
Odis Ergo 510 Drip Tips
Next up is OC&D's new drip tips. The form factor of the Ergo tips provides a very comfortable and natural feel to vape on. For those who don't care for drip tips with more material in its design, this is a perfect accessory for you. The inner diameter of these tips is not effected by this design and will provide the same draw as the rest of their 510 drip tip line-up. As with other Odis products, the Ergo tips will be available in multiple materials and finishes which include: Ultem, black and white Delrin, anodized titanium, and stabilized wood.
Odis Squonk Mod – The SQM
                  With squonk capable atomizers available by OC&D, it would only make sense that they would eventually create their very own squonk mod that would go hand-in-hand with them. This device will feature a very unique shape that will provide comfortable curves and attractive lines. This device will be available in stabilized wood, Delrin, and 3D printed materials.
Odis Closed System Design – The Millennium
Odis Collection & Design has always strived to innovate and push ideas to their greatest potential. While they have been busy with the release of the O-Genny, and many other products, their next big step has already been in motion for more than a year. OC&D will be introducing their very own closed system to the market, and its going to offer many unique features for vapers on the go. This will be unlike any other unit available today, and will rock the market with their arrival.
As always, the Odis team continues to bring beautiful, and high quality products to the table. With their ever expanding line up of hardware, there is sure to be something for everyone to enjoy.